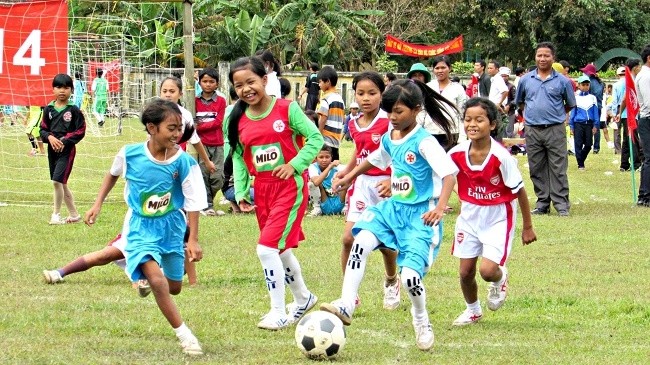 FFAV focuses on disadvantaged children and the development of women football. (http://nhandan.com.vn)
As its name suggests, the "Football for All in Vietnam" community program promises that anyone who wants to play football will be given an opportunity, regardless gender, ability, or social circumstances.
The program has received an investment of 2 million USD from the Football Association of Norway. Over the past 15 years, the FFAV has built a network of 200 grassroots football clubs involving 17,000 children between 6 and 15 years old. The program won in the NGO and Individual category at the Dream Asia Awards in 2017.
This June, for the second time, the FFAV and 48 other delegations from around the world will come to Moscow to participate in the "Football for Hope" Festival, an official event on the sidelines of World Cup 2018. The FFAV's first time was at the 2014 World Cup in Brazil.
Nguyen Hoang Phuong, FFAV director, said: "As the Norwegian government's funding will stop at the end of this year, it will be a great challenge for us to maintain and expand the program across Vietnam. Though we focus just on developing an interest in football, many children in Hue have qualified for the Vietnam women's national football team."
Tran Quoc Tuan, Vice Chairman of the Vietnam Football Federation, has encouraged the expansion of Hue's school football model nationwide.
"From this model, we have sent a number of teams to conduct surveys of school football in other provinces like Lang Son, Cao Bang, and Quang Tri," Tuan added.
Vietnam's football strategy until 2020 with a vision to 2030 defines school football as a key solution to developing football nationally.
In 2015 the Ministry of Education and Training signed a joint agreement with the Ministry of Culture, Sports, and Tourism to realize the plan.
Director of the General Department of Sports and Physical Training Vuong Bich Thang said a comprehensive review of school and community football models will be conducted this year towards formulating the best way to expand the Hue model nationwide.
Nguồn: vovworld.vn