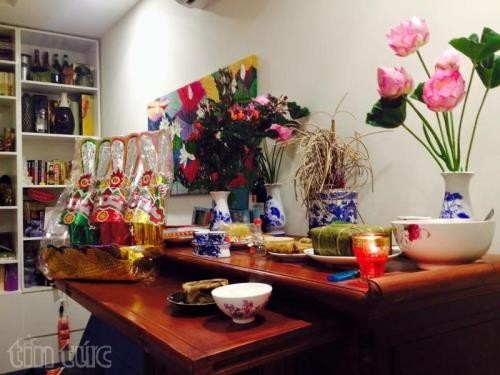 A feast to worship the Kitchen Goods can be a vegetarian meal or traditional dishes depending on each family. (Photo: baotintuc.vn)
In Vietnamese belief, the Kitchen Gods are the guardian spirits of all household affairs, bringing good luck and happiness to the family and preventing evil spirits from entering the home.
On the 23rd day of the last lunar month, the Kitchen Gods ride on carps up to Heaven to deliver their annual report on the family's activities to the Jade Emperor. Before the ceremony to see off the Kitchen Gods, the family tidies up their house and buys offerings for a Kitchen Gods ritual.
Indispensable offerings for the ritual are paper votive shoes, robes, and mandarin bonnets, and paper carps for the Kitchen Gods to ride to Heaven. Some households buy live carps.
Doctor Nguyen Thi Hong, a lecturer at the Academy of Journalism and Communications, said: "After the ritual, the carps are set free so they can carry the Kitchen Gods to Heaven and back. Carps represent prosperity and growth and have a magic ability to become dragons. Dragons can summon rain, a vital factor for the agricultural sector."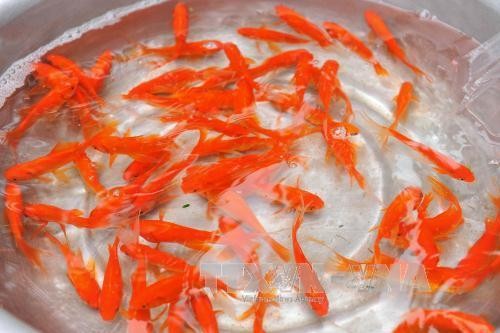 Traditionally, three live carps are offered to the Kitchen Gods to ride to Heaven.
(Photo: VNA)
Depending on the economic circumstances of each family, a feast of traditional dishes is prepared to express the family's gratitude to the three Kitchen Gods, two of whom are female.
Nguyen Ngoc Lan, who lives in Ta Quang Buu Street in Hanoi, told VOV: "The ritual should be conducted before noon. The offerings should include a chicken, a chung cake, steamed sticky rice, fruits, pork pies, and a bowl of soup. People pray for good health and good luck for the whole year."
After seeing off the Kitchen Gods, family members gather to enjoy the feast. Tran Trong Xuan of Hanoi's Hao Nam residential area said: "Our cultural tradition is important. Every year on that day my entire family gathers to see off the Kitchen Gods together."
Whether a Vietnamese family performs ritual in the traditional way or in a more modern fashion, the belief persists that the fire in their kitchen symbolizes and embodies the family's unity and love. The custom of worshipping the Kitchen Gods reflects the central importance of the family in Vietnam.
Nguồn: vovworld.vn