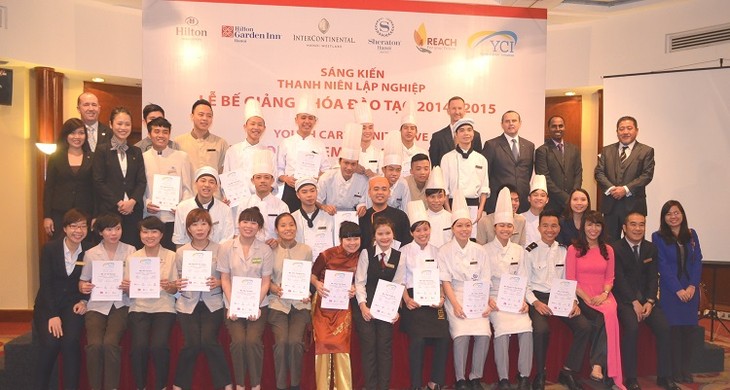 Trainees take a photo with the directors and managers of the hotels and centers under REACH management. (Photo: reach.org.vn)
Established in 2004 by the Vietnamese Union of Scientific and Technology Associations, REACH began as the Livelihood Advancement Business School (LABS), a project of Plan International in Vietnam.
REACH's training model aims to empower youth to change their own lives and the lives of their families and start contributing to their community.
Most REACH trainees come from poor families and haven't finished high school. In addition to receiving free vocational training, they are given meals, uniforms, and a travel allowance during the traning period.
Since 2004, REACH has trained more than 1,000 students per year. 80% of them have found employment within six months after graduating. Some have been hired by the 5-star hotels where they did their training.
Trainee Le Thi Hang said: "I was very happy to be recruited by REACH, because in 2 to 3 months, I might have a job. The people here are friendly and the teachers are enthusiastic."
Based on the "Youth Career Initiative" program, REACH teaches impoverished youth essential skills for working in 5-star hotels, and restaurants as well as sales, marketing, IT, graphic design, website design, and nail art. Trainees can choose what they want to study.
Teacher Nguyen Quang Tuan said: "The starting point of most REACH trainees is lower than that of students at other vocational training centers, because they haven't completed high school and are from poor families. We need to make a greater effort to give them confidence, especially in the first 3 months."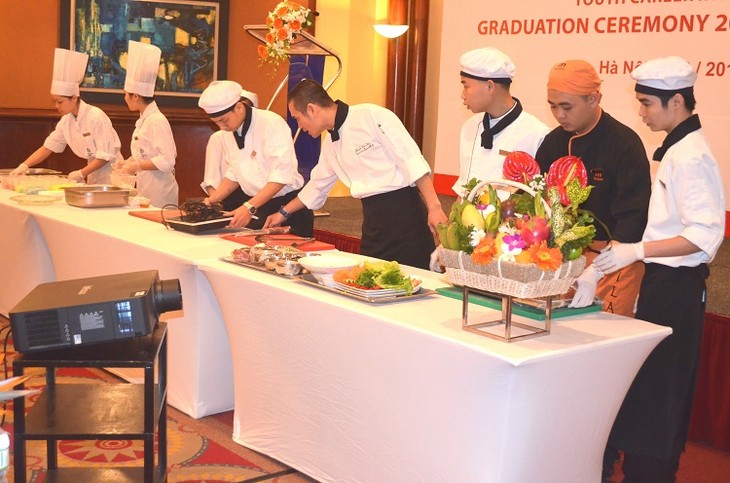 Trainees demonstrate their skills at a graduation ceremony. (Photo: reach.org.vn)
19-year-old Nguyen Danh Hao of Hoai Duc district, Hanoi, is the eldest of three brothers. He was admitted to study at REACH and has now found a stable job at a restaurant in Hanoi.
"From a marketing course at REACH, I learned communication, consultation, and problem solving," said Hao.
REACH trainees are taught important life skills like negotiation, problem solving, team work, decision making, and stress control. And, with the support of international volunteers, their English skills are improved.
Pham Thi Thanh Tam, REACH's Director, said: "Our goal is to help youth with economic difficulties who can't afford other vocational training programs. Without skills and training, they will not find employment and will have few economic opportunities. We hope to expand to other vulnerable groups and other occupations to meet the needs of young people and the labor market."
Nguồn: vovworld.vn