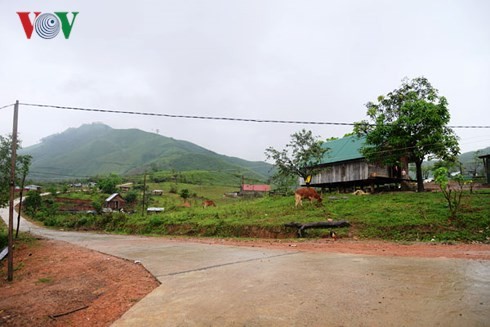 Tar hamlet is recovering after storm Damrey. (Photo: Quoc Hoc/VOV)
We returned to Yang Mao commune in Krong Bong district with the sun rising due east. New houses with corrugated iron roofs in the sunlight create new vitality for the typhoon damaged area.
We stopped at H'Thu Nie's home in Tar hamlet as her family was gathering around a cooking fire in their temporary house built by local soldiers.
H'Thu Nie recalled that less than 2 months ago, dozens of houses in Yang Mao were blown away by Damrey, the 12th storm to hit Vietnam in 2017. Crops, domestic animals and poultry were devastated by the extraordinary cyclone that struck the central region.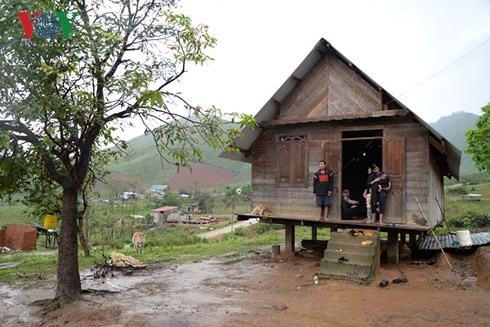 H'Thu Nie's home is rebuilt with support from local soldiers. (Photo: Quoc Hoc/VOV)
Despite many difficulties, nobody in the flood area was left hungry. H'Thu Nie said she hopes her family's living conditions will improve this year.
"We are very happy to have an accommodation to welcome the coming Lunar New Year or Tet. We received 3 cows from humanitarian programs. This year we will work hard to rebuild our house," she said.
The house of Y B"hiong Nie, the patriarch of Tar hamlet, was also completely destroyed by storm Damrey. The war veteran was loaned 3,100 USD to rebuild his house.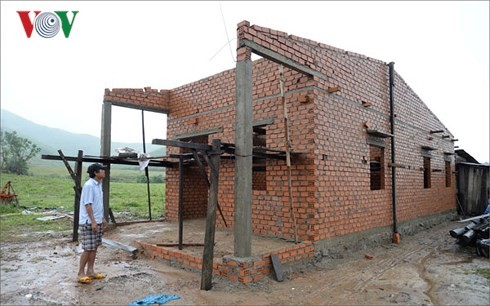 War veteran Y B"hiong Nie is rebuilding his house after storm Damrey. (Photo: Quoc Hoc/VOV)
"The local military will help us rebuild our houses before the Tet holiday. I visited and encouraged my peers to do their best to overcome these difficulties," said Y B"hiong Nie.
Damrey ruined more than 100 houses and unroofed 450 others. More than 200 ha of crops were destroyed. Total losses caused by the storm in Yang Mao commune were 1.8 million USD
In addition to support from the armed forces and the youth union, the charity group "Loving Arms" from Buon Ma Thuot City has made multiple trips to Krong Bong district to help the locals.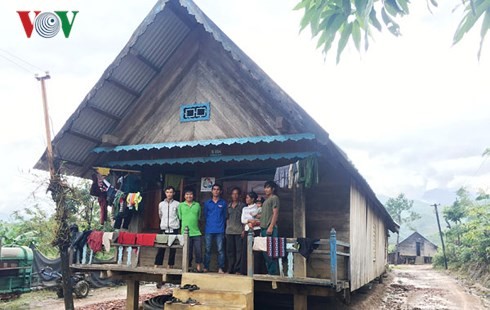 H"Xuon Nie in M'nang Dong hamlet, Yang Mao commune, receives support from the charity group "Loving Arms" to roof the destroyed house. (Photo: Quoc Hoc/VOV)
Nguyen Duy Hoc, the group's leader, said support will continue into the New Year 2018.
"We arrived in Yang Mao on the last day of 2017 and repaired houses for a few families. We stayed and welcomed the New Year 2018 with the locals and continued recovery work the next day," he told VOV.
Nguồn: vovworld.vn