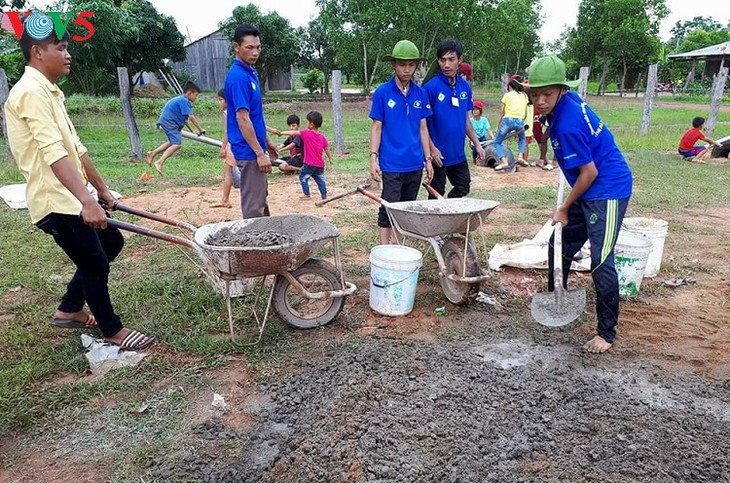 The Ea Sup Youth Social Work team"s membership has increased to 50. (Photo: Huong Ly)
A new branch of Cu M'lan Primary School in Binh Loi hamlet, Ea Sup district has saved some of the school's teachers and pupils from having to go an extra 5 kilometers to the main school. The branch school was constructed by the Ea Sup Youth Social Work Team, sponsored by benefactors inside and outside Dak Lak province. It has 3 classrooms equipped with standard desks, 2 rest rooms, and a well that provides safe water.
Teacher Nguyen Thi Tuyet said: "Many children live 5km from the main school. It's touching to see the little first graders stumbling and falling on the slippery road. The branch of Cu M'lan Primary School has made it easier for the local children to attend school."
The Youth Social Work team has addressed the difficulties of ethnic minority people and children across Ea Sup district, especially those in remote, disadvantaged, and border areas. Their signature programs, which have been expanded throughout the province, included "A school of love", "Green Chung cakes", and "A playground for children".
Team member Y Khamta Nie says he is proud of what he has accomplished, adding: "I found our activities meaningful as they bring people together, and narrow the gap between the poor and the rich. Since I joined the team, I feel more useful and find myself wanting to contribute even more to the community."
Le Hong Hanh, the team's leader, says the group now has 50 full-time members and nearly 2,000 part-time members who carry out support activities. Hanh is responsible for mobilizing young volunteers, organizing their activities, and linking them with disadvantaged areas. She says each member is an active element in community activities.
Hanh said: "Ea Sup is a remote and disadvantaged district. One of our aims is to link sponsors and disadvantaged areas in the locality. We motivate youth union members to participate in volunteer activities in remote areas and strengthen their role throughout the district."
Nguồn: vovworld.vn