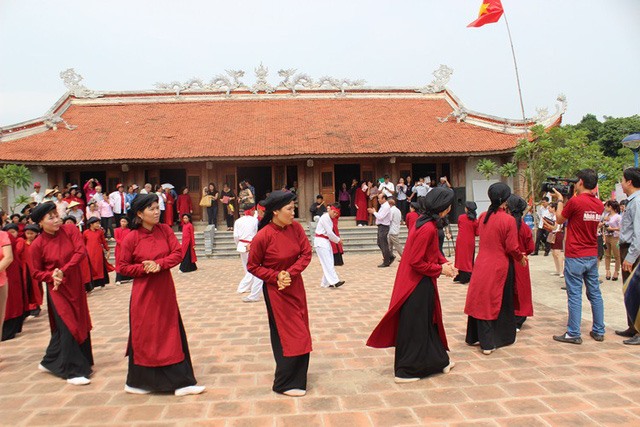 A newly-launched tour to Phú Thọ Province from capital Hà Nội will bring tourists to the Hùng Temple relic site, Hùng Kings Museum, Hùng Lô ancient village and Lãi Lèn Temple. Tourists will be entertained with local xoan singing and dancing. — Photo dantri.vn
Viet Nam News
HÀ NỘI — A new daily tour from Hà Nội to the northern province of Phú Thọ is being organised, showcasing folk songs performed by the locals.
The tour will bring tourists to the Hùng Temple relic site, Hùng Kings Museum, Hùng Lô ancient village and Lãi Lèn Temple.
Local artists will perform xoan (spring) singing between 2pm and 4pm at Hùng Lô Communal House each day and at Lãi Lèn Temple on weekends.
On the occasion of the Hùng Kings Memorial Festival, which is scheduled to take place between April 20 and 25 this year, performances will be held between 8am and 4pm every day at these two venues.
The unique practice of worshiping the Hùng Kings in Phú Thọ was recognised by UNESCO as part of the world's intangible cultural heritage in 2012.
The Hùng Kings Memorial Festival is held annually from the eight to the eleventh days of the third lunar month in honour of the legendary founders of the nation. The main festival day has been a public holiday in Việt Nam since 2007.
Local xoan singing was added to UNESCO's list of intangible cultural heritage of humanity in December last year.
Xoan singing is practised in Phú Thọ Province, often during the first two months of the lunar year. Traditionally, singers perform songs in sacred spaces such as temples, shrines and communal houses for the spring festivals.
There are three forms of xoan singing: worship singing for the Hùng kings and village guardian spirits; ritual singing for good crops, health and luck, and festival singing where villagers alternate male and female voices in a form of courtship. — VNS
Nguồn: vietnamnews.vn