VietNamNet Bridge – Ten-man and no coach Becamex Binh Duong tied FLC Thanh Hoa 3-3 in their fifth V.League round match yesterday, at their Go Dau Stadium.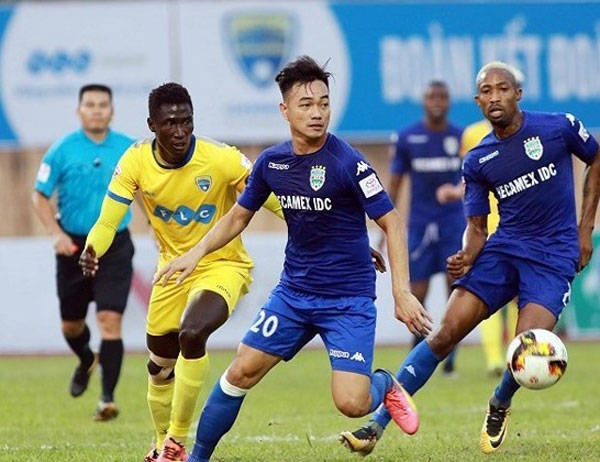 Defender Nguyen Trung Tin of Becamex Binh Duong runs the ball away during a match against FLC Thanh Hoa yesterday. — Photo danviet.vn
Coach Tran Minh Chien was sent off at the 66th minute after an extreme reaction with referee Nguyen Minh Thuan, as Chien believed that Binh Duong should have a penalty when Van Bakel was at fault in the box, but Thuan refused it.
About 20 minutes later one of his assistant was also pushed to the stand because of the same behaviour.
One minute before the end, To Van Vu received the second yellow card and walked out of the game.
Taking advantage as the hosts, three-time champions Binh Duong wasted no time in opening their attacks, nearly scoring just eight minutes into the game when Thanh Thao's volley went a hair gap wide.
But just four minutes later, Binh Duong recieved a penalty after midfielder Dinh Tien Thanh of Thanh Hoa fell To Van Vu in the box.
Golden Ball holder Nguyen Anh Duc easily scored a goal with a tap-in.
Hoang Dinh Tung leveled the result for Thanh Hoa at the 25th minute, converting a smart pass from Pape Omar into a goal.
The second half saw Thanh Hoa's raising up.
They created consecutive attempts and brought Binh Duong's players in alert.
Their second goal came when midfielder Ho Tan Tai was confused during his attempt to block a ball, but he made his own goal just four minutes after the interval.
Defender Nguyen Thanh Thao made the game equal with his finish to the far corner of goalkeeper Thanh Thang.
Vu scored to make it 3-2 for the hosts, 25 minutes before he was sent off.
Omar netted his second goal in five matches for Thanh Hoa, to end the scoring.
The draw did not change their positions in the ranking.
Thanh Hoa will next entertain Can, while Binh Duong will play Song Lam Nghe An.
Can Tho and Nghe An yesterday also ended their game 3-3.
In the latest match Hai Phong lost 0-2 to defending champions Quang Nam.
Earlier on Saturday, Sai Gon FC enjoyed their first win at the V.League, defeating former champions Hoang Anh Gia Lai 3-1.
Bui Tran Vu, a former Hoang Anh Gia Lai player, netted twice near the break after his teammate Da Sylva Dominique opened the score just 15 minutes from the first whistle.
Hoang Anh Gia Lai's only goal went to captain Luong Xuan Truong, which was sandwiched between Sai Gon's winners.
Coach Phan Van Tai Em was very excited with his win.
"It is really great feeling when we taste our first victory. My players work very well, especially Vu. He is really outstanding today. I may give him more opportunities in the coming games," said the former national defender, who kept smiling at the post-match press briefing.
However, Tai knew that challenges still await him, because the league is just in their first games.
On the other side, coach Duong Minh Ninh was not satisfied with the game, blaming his defenders' mistakes.
"We had good tactics, but the defenders did not do their job, losing their focus, which caused all three goal losses. Meanwhile, our strikers were too rusty in the second half and they failed to score a single goal. I still have many things to do after this match," he said.
With the win, Sai Gon escaped from the bottom position, jumping to No 11, just one step behind Hoang Anh Gia Lai.
Nam Dinh replaced Sai Gon as the bottom-ranked team, after losing 1-3 to HCM City FC.
They were the only team in the V.League who have not won a game yet. After five matches, they have only earned only one point.
This was HCM City's third win, as they reached fourth position. 
Source: VNS
Nguồn: english.vietnamnet.vn