Sports people are normally extremely healthy, yet death can still come for them at any moment, despite warnings and preventive measures, experts warn.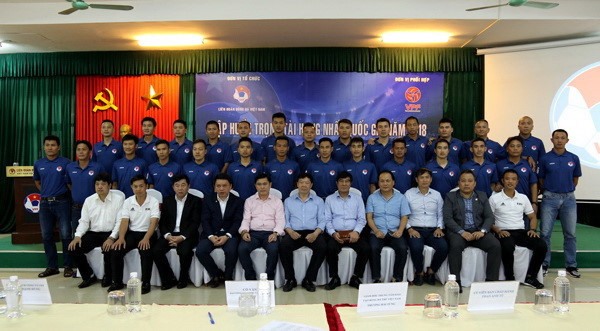 Referees and assistant referees at a training course on the eve of an upcoming national football league championship 2018. — Photo courtesy of VFF
The recent death of a Vietnamese football assistant referee, Duong Ngoc Tan has raised an alarm for all people, from amateurs to and professional sportspeople and sport management officials, according to Dr Nguyen Van Phu, Vice Chairman of the Viet Nam Football Federation and Deputy Director of the Viet Nam Sports Hospital.
The referee passed away last weekend days after he collapsed following a fitness test organised by Viet Nam Football Federation (VFF) to select referees for the second tier of the national football league.
Phu told Viet Nam News that the incident was a tragedy for not only Vietnamese football but also the whole sport sector.
Having worked as an international medical expert for the Asia Football Confederation, he outlined some recommendations to prevent such tragedies from taking place again.
In sports like football and others that require endurance, the risk of cardiac stroke or even death is high since people exert themselves to their maximum ability, according to Phu.
Even in developed countries like England or Italy, Phu said, in professional sport, cardiac strokes occurr every year with an average of three per 200,000 athletes dieing due to cardiovascular diseases with unidentified causes during training or competition.
According to Phu, a referee and a footballer faced the same risk of sudden death due to heart stroke.
During the match, professional referees have to run as much as footballers and at high speeds to keep up with play.
However, health protection and nutrition schemes for referees have largely been neglected, Phu said.
The VFF's rules state that referees for professional matches must be aged 30 or more, but the fitness of the referee should be more important, he added.
"There are two issues that we need to tackle," said Phu.
First, pre-season medical check-ups should be important for all sportspeople, referees and coaches, according to the doctor.
"But this is only part of the process, since in some cases, cardiac arrest, strokes and even deaths still occurr despite someone passing all the check-ups," Phu said.
Therefore, it was even more important that emergency aid is ready at all times at sporting events, he said.
The doctor appealed for more caution and tighter health checks and emergency aid for all matches.
"The Viet Nam Football Federation (VFF) should be particularly concerned about that," Phu said.
Meanwhile, Nguyen Van Mui, head of VFF's board of referees (BOR) who was in charge of the referees' fitness test, said it was a lesson for those who run sporting events, including the BOR.
As head of the BOR and Tan's colleague, Mui took responsibility for the incident as he said there were likely loopholes in the process of referees' physical examinations.
In Tan's case, Mui explained all participants were required to submit their latest health exam results before they could take the test. Only those with perfect health were eligible for the test, he said.
However, as the health exam did not include a kidney test, organisers were not aware of Tan's kidney condition which might have caused his death after the stroke, Mui explained.
At a press conference early this week, VFF General Secretary Le Hoai Anh requested all referees to get a medical examination certificate dated after March 15.
"The VFF has confirmed that if referees do not possess a medical examination certification, they can no take physical fitness tests," said Anh.
Tan's death marks the first time in Viet Nam's football history a referee has died after finishing a fitness test.
According to eyewitnesses, Tan collapsed to the ground shortly after having successfully completed his test.
He was rushed to the St. Paul Hospital half a kilometre from the test facility at Hang Day stadium, where doctors diagnosed him with a kidney condition.
He was transferred the same day on April 2 to Bach Mai Hospital, Hanoi"a leading institution in kidney diseases, where he remained under intensive care until his death on April 7. — VNS
Nguồn: english.vietnamnet.vn